Stability & safety tops the priority parameters for flooring or roadway options.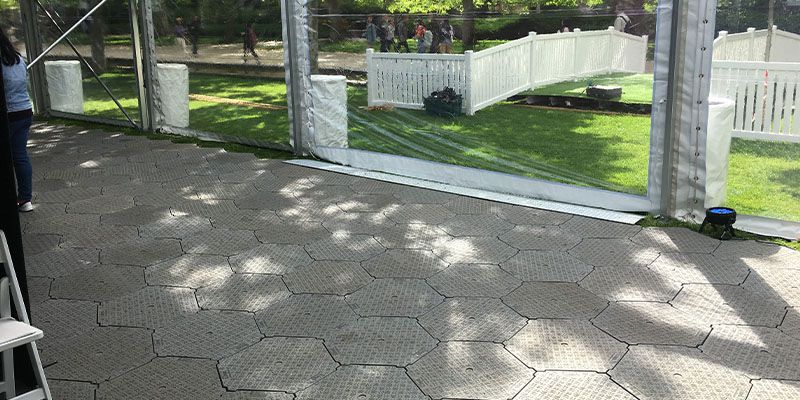 Uneven surfaces could lead to tilting, rocking, and unsteadiness of equipment kept on them. This is the primary reason why flooring remains necessary – to prevent accidents and instability. Marquee flooring applications ensure even, safe, and strong settlement for stationary arrangements and footfall movements.
People organizing weddings or parties or gatherings or major events require proper flooring for an audience to enjoy without stumbling or falling on the grass. Indeed, the grassy areas or grounds are chosen for hosting such events. Inappropriate safety measures could directly affect the quality of the event, not counting the embarrassment now.
How to choose marquee flooring?
Space, size, and area recommendations from a client set the working piece for a service provider to produce custom-designed solutions. Unlike temporary roadway for construction sites, marquee floors are made to accommodate footfall depressions only. Roadways of temporary kinds should have high impact-resistance for vehicular movement, heavy-duty equipment movement, and high traffic.
What are the flooring types available?
Though variants are aplenty, the major flooring types include direct lay flooring, suspended flooring, cassette flooring, and versatile flooring. Direct lay flooring option comes out brightly for even surfaces, making a practical and affordable solution. On the other hand, cassette flooring and suspended flooring accentuate uneven surfaces with modular and structural arrangements respectively.
Whether you host a small wedding party or a major event, you should seek expert opinion for marquee flooring to avoid extraordinary or costly mistakes.